A stone conservator's skill
18 November 2010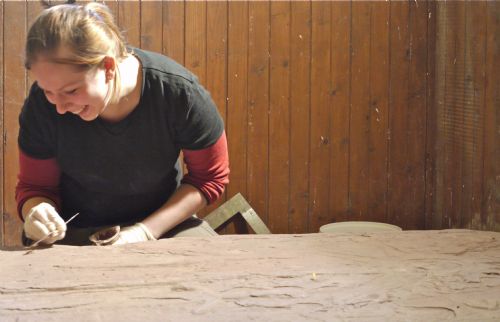 Those of you who have been keeping a beady eye on the website and newsletters will be familiar with the skilled stone conservation work of Karolina Kubisz.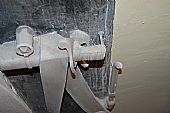 She has been working at the East Church again recently,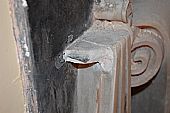 this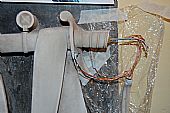 time carrying out conservation work on the Hugh Rose Ross Memorial. There had been some damage to the sword handle and scabbard point which required careful rebuilding based on a wire framework.
O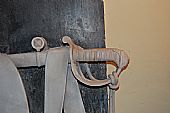 nce Karolina had put in all the details the new work blended in with the old. Interestingly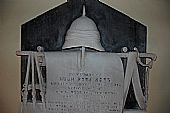 each part of this monument is carved as a separate item, if you look closely at the photos you might be able to spot some of the joins.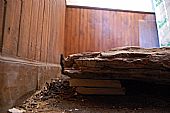 Karolina's report on her work on the medieval gravestone gives you an insight into the materials and attentio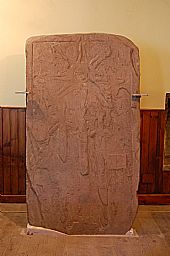 n
to detail required to carry out conservation work. The image of the stone laminations gives you an idea of the scale of the problem before work began.
The right hand image shows the stone on display in the church, after completion of the work. It is in a tailor made stand, with resin in the base shaped to support and cushion the stone.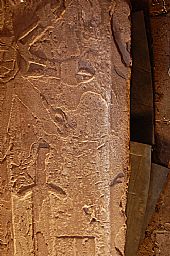 If you are interested in the range of work undertaken by stone conservators, Karolina's portfolio has some impressive examples from Scotland, Poland and the Ukraine. Karolina's artistic work in pencil, sculpture, lime plasterwork and scraffiti also shows great skill.
You can get in touch with Karolina via her website. If you want to see what is happening in the East Church at the moment, take a look at our worksite page.
All photos, except the one of her, are by Karolina.
You can also see an account of this work in the East Church summer 2010 newsletter
Latest News Stories
We'll be celebrating Hogmanay in Cromarty with the bells of the East Church and Courthouse ringing out for two minutes - or 120 rings. If you're aro...
Learn more »
'... the kirke within this kingdome is now purged of all superstitious observatione of dayes... thairfor the saidis estatis have dischairged and...
Learn more »
Support the work of the Scottish Redundant Churches Trust in looking after historic buildings like the East Church.
more »