Live volcano in Cromarty
24 May 2009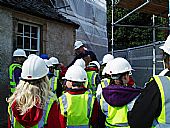 There were gasps of surprise from the Cromarty Primary School children when they visited the East Church recently - they certainly hadn't been expecting to see a live volcano, or stones cracking apart and disintegrating before their eyes.
But this is just what Laing Traditional Masonry Project Leader Andy Newcombe showed them... and all in the name of science! Because what he was describing and showing the children was the reaction of quicklime with water; and how that reaction was used to mix the quicklime with sand to make a lime mortar.
The children had last been in the church before work began, so its new warehouse type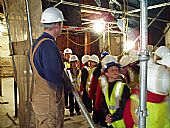 appearance came as something of a shock. They were reassured by Andy that everything would be returned to how it was before, and of course more than a little fascinated to hear about the burials that filled the main aisle beneath their feet.
Laing Traditional Masonry and the community and education workers David Alston and Caroline Vawdrey are very happy to show other school groups around - and that includes secondary pupils, who might want to specialise in construction skills.
So please do get in touch if you would like a visit. You can contact Caroline and David either by emailing info@eastchurchcromarty.co.uk or by phoning 01381 600243.
You can also download our Primary Schools Education Pack and get a wealth of information from heritage education expert Emma Griffiths.
Latest News Stories
We joined with churches across Europe on Sunday 11th November to commemorate 100 years since the close of World War One. It was very moving t...
Learn more »
Would you like to help us keep the church open to visitors? Opening and closing times are flexible to suit. Each volunteer does a week at a t...
Learn more »
Support the work of the Scottish Redundant Churches Trust in looking after historic buildings like the East Church.
more »