Christmas greetings and Windows on the World
23 December 2012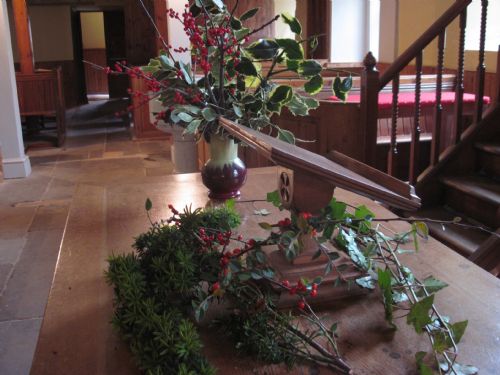 A very Happy Christmas and wishes for good fortune in 2013 from all at the East Church. And a big thank you to the very kind helpers who have been decorating the church for Christmas.
Our nearly neighbours along at the NTS Hugh Miller's cottage and museum have been holding a wonderful advent display in their Church Street window. Organised by curator Alix Powers-Jones and her assistant Zoulla Spirou, the contents of the window displays have been put together by societies, both local and far afield to show some of the work they do to the passing public.
The window displays are great to see, and also thoroughly enjoyable are Alix's daily blogs describing the windows. You can see each days on the Cromarty Live website, but a few of the highlights are given below. Enjoy!
---
Ladies and Gentlemen,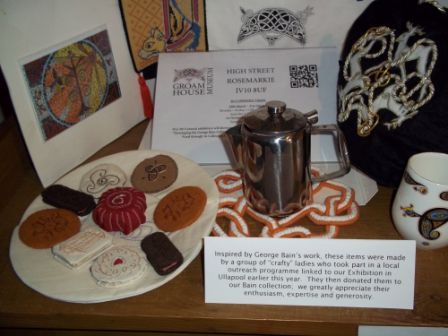 Welcome to the Window on the World!
This is the community exhibition being hosted throughout December in the tiny window of Hugh Miller's Birthplace Cottage, the iconic thatched fisher folk cottage in Cromarty. From 1st to 31st December (except Christmas and Boxing Day) the window display changes every day and from the viewpoint on street passersby can look in and see a setting from a local group or organisation from Cromarty and beyond.
Saturday 1st December saw the exhibition off with a bang with a display of afternoon tea complete with "Bain's Biscuits" from Groam House Museum in Rosemarkie on the Black Isle. The biscuits may look good enough to eat, but I wouldn't recommend trying as fabric and thread are not easily digestible. Exquisite work by talented crafters creating designs inspired by George Bain. GHM have set a high standard with this lovely display.
---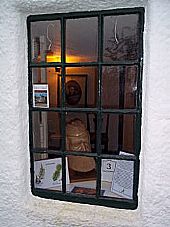 Ladies and Gentlemen,
Fee-Fi-Fo-Fum, I see the face of a Scotsman! (with apologies to folklorists Henry Cole and Joseph Jacob).
Window on the World Day 3 saw me struggling with the wooden head of a giant, both literally and figuratively. NTS Inverewe Gardens on the wild north west coast lent us a precious object for their WotW display: a heavyweight, larger than life, wooden head of Sir Osgood Mackenzie, the chap who started Inverewe gardens in the 1860's. His vision, determination and drive led to the formation of the gardens from the most unprepossessing of surroundings with exposed conditions, by the creation of a protective vegetative shelter belt.
A lesson to us all, perhaps, that even from the hardest, wildest conditions; good planning, hard work and time can coax a forest and a thing of beauty.
---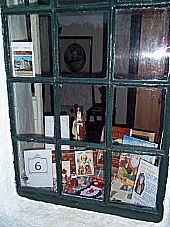 Ladies and Gentlemen,
I am a little later than usual with this update on the Window on the World exhibition because I have been lending a hand with the cleaning of the East Church. Encouraged by the chilly surroundings (cold enough to see your breath!) a group of us, organised by Caroline Vawdrey, whizzed around the church with brushes and cloths, and in the space of an hour had succeeded in making the ground floor look clean and ship-shape. Our reward? A hot drink, a mince pie and a gentle chat.
Giving up a little time for the community is something that the subject of our 6th December window knew all about. St. Nicholas, whose saint's day is the 6th December, was a 3rd century Greek (now modern-day Turkey) who gave his time and wealth to help his community. He is the origin for the story of Father Christmas. The Abbey at Buckfast prepared our beautiful 6th December window as a reminder of these historical links of to a real individual.
---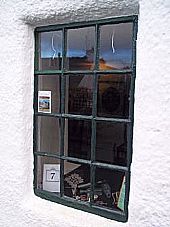 Ladies and Gentlemen,
The Window on the World display for the 7th December was a pile of rubbish! Or more accurately, a pile of found items, that were once discarded. These have been put together by the Cromarty Courthouse Museum as a commentary on Cromarty past lives.
Rubbish is something of an inconvenience – unwanted items in the way, but in heritage terms it is a boon. There is a definition of archaeologists as people with an unhealthy interest in other people's rubbish. Speaking as an archaeologist who spent many a happy hour delving through prehistoric middens (rubbish heaps) in the Outer Hebrides I can confirm that this is true. It is a window on a world long gone. What we use, discard, reuse, recycle, says much about our lifestyles, practices, beliefs.
So, as you diligently divide your rubbish into recyclable and no-recyclable waste, into glass and organic material just consider that not only are you being Green, you are also creating the archaeological record of the future.
---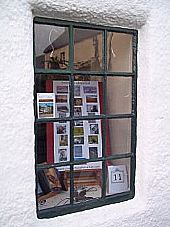 Ladies and Gentlemen,
Where would we be without images? What set me off pondering this question was the Window on the World display for 11th December created by the Cromarty Camera Club. We have beautiful, eye-catching images reproduced for all to see.
Some of you are excellent photographers, whereas I'm more your "point , shoot and hope" variety of photographer. I was brought up in a world where photographs were taken on special occasions (a birthday, holiday or Christmas) and with film laboriously developed and images printed out in a dark room smelling of acetic acid. Whereas now, we take photographs of all sorts of things, on all sorts of occasions. Technology has created easier, instant access both to the initial means of recording an image and to disseminating it. Take a photograph with your digital camera or your smart phone, download it and send it winging across the ether to one or to many.
---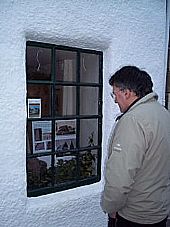 Ladies and Gentlemen,
Now, I guess I was tempting fate talking yesterday about the wonders of modern technology for communication, as today I found myself (along with other great chunks of Scotland) without internet connection for several hours. A power outage rendered BT and other internet service providers with no service. Ah, the modern world is very susceptible to these unforeseen occurrences. I don't know for sure but suspect that the power outage may have something to do with the marked dip in temperatures. It was minus 9 degrees Centigrade in the Glens last night and freezing fog this morning so thick that as I did my usual cycle into work this morning I couldn't actually see the sea, which was barely a few yards to the side of me. Thank fully the Broadband system is being slowly restored, hence this message to you.
We may like to think that we are protected in our sophisticated, technological world, but Nature keeps tripping us up. Our cultured life is a thin veneer whose resilience to natural processes of climate and weathering is very limited indeed. Thus, the WotW display for 12th December from the Kirkmichael Trust demonstrated the effects of weathering and encroaching wilderness on historic buildings, with a dramatic setting of a stone finial from the roof of the ruined chapel of Kirkmichael. In its prominent position on the Black Isle with its face to the Firth, Kirkmichael is a dramatic site...and sight. Much of the original chapel (and its predecessors), including a statuesque bell tower, have been lost but it is still consecrated ground and interments still take part on the site. The Kirkmichael Trust are working to consolidate and restore the fabric of the remaining building.
---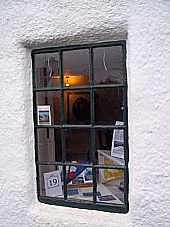 Ladies and Gentlemen,
The reasons why villages and towns establish and develop in particular spots largely divide into two rationale: need and/or want. For example, I need to cross that river at a ford or bridge, I need to be close to good agricultural land; I want to claim taxes from passing travellers, I want a defensible location.
Cromarty, like many other communities in the area owes its existence in part to the vicinity of good land, the presence of fresh drinking water and, particularly, to safe access to the sea: a good harbour. In these days of the ubiquitous road and air transport, we sometimes see the sea as a barrier to where we want to go. Whereas, in earlier years the Firth and the wider sea beyond promised food, transport, communication, even a means of warfare and defence.
The window on the World display for 19th December reminds us again of Cromarty's maritime links, with objects and images from the Cromarty Boat Club. Fishermen do still ply their trade from Cromarty harbour, but more frequent sailings are those for research (The University of Aberdeen Research Centre) or for pleasure (dolphin spotting, the ferry, private boats for leisure and sport). From the waves that carve our shores, to the dwarfing oilrigs that sail past the town en route for distance oceans, we continue to be defined by the presence of the restless sea.
---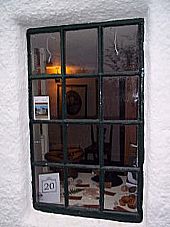 Ladies and Gentlemen,
It must be something in the water! On the other hand, perhaps it is something in the soil or the remote geography, or maybe it is the time?
What inspired 19th century individuals like Hugh Miller in Cromarty and Robert Dick in Caithness to open their eyes to the world around them and to do such innovative, observational research (including fossil collecting) that it led to breakthroughs in our understanding of Biology, Earth Science and Geology? These two chaps were similar in many ways: largely self-taught, meticulous individuals that wanted to know more about the world around them. Their strengths were that they did not restrict themselves to studying one aspect of that world, instead they were observational polymaths (into everything) wanting to know more.
The WotW display for 20th December neatly illustrated this with a series of objects and labels encompassing the range of Robert Dick's areas of interest and "topped off" (literally and figuratively) with a homage to his iconic top hat, complete with eccentric label. I sometimes wonder if we force our young people to specialise too soon at school and university, when in fact what should be doing is encouraging them to study a breadth of subjects and so develop a wider understanding. Development of skilled researchers and experts is important, but then so is the ability to put that expert knowledge into context.
Kind regards,
Alix
Latest News Stories
We joined with churches across Europe on Sunday 11th November to commemorate 100 years since the close of World War One. It was very moving t...
Learn more »
Would you like to help us keep the church open to visitors? Opening and closing times are flexible to suit. Each volunteer does a week at a t...
Learn more »
Support the work of the Scottish Redundant Churches Trust in looking after historic buildings like the East Church.
more »