Eighteenth century tree roup
26 November 2012
James Mackay, Historian and active chair of the Kirkmichael Trust came across this fascinating advert during recent archival searching.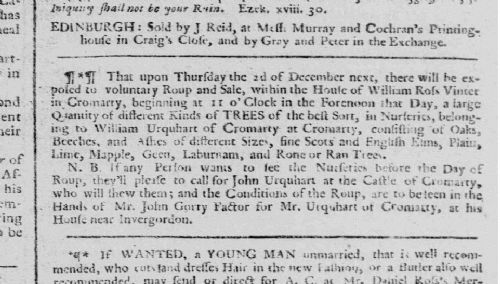 Factor, John Gorry, oversaw major refurbishment of the church for Cromarty estate owner, John Urquhart, in 1756. The work included raising the east-west aisle by 4 feet and building a lairds loft at the east end of the church. You can find out more about him in David Alston's history of the East Church, which is downloadable as a pdf.
In this, Dr Alston notes that:
"In March 1756, Urquhart authorised his factor, John Gorry, to use materials stored at Cromarty castle – 'any Gottenburg plank of spey trees, or chest of glass in the vault called the charter room'. In June, Gorry reported that 'slates, lime and hewn stone' were laid down in the churchyard and that he had sent to Garmouth (on the River Spey) for 'trees'. As work began, Gorry commented that 'the roof was very insufficient' and he also urged Urquhart to take account of the fact that 'a loft is highly necessary for accommodating your people'.
The roof was renewed and its level was raised by some four feet. Almost forty years later, Rev Robert Smith reported that the new roof of 1756 replaced a roof of oak 'said to have been cut down from the Hill of Cromarty, upwards of 140 years before'. It is possible that the present gable windows, in both lofts, were created at this time, and the older, lower windows closed off. These were a narrow splayed window in the west gable and a round headed opening in the east gable. The new window in the west gable re-uses an older lintel with a chamfer."
It is interesting to observe that that the Cromarty estate was both selling and purchasing trees in the same year. Presumably the trees ready for sale from the nursery were young ones, rather than the large timbers required for church building works.
Latest News Stories
We joined with churches across Europe on Sunday 11th November to commemorate 100 years since the close of World War One. It was very moving t...
Learn more »
Would you like to help us keep the church open to visitors? Opening and closing times are flexible to suit. Each volunteer does a week at a t...
Learn more »
Support the work of the Scottish Redundant Churches Trust in looking after historic buildings like the East Church.
more »