Wonderful wood
16 August 2012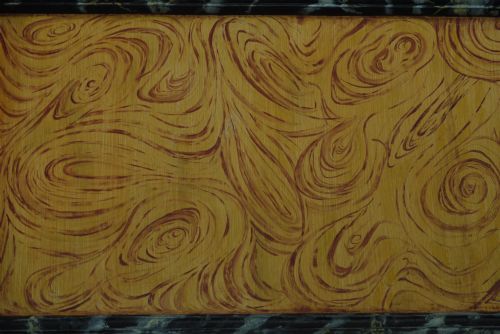 Scottish Wallpainting conservators Fiona Allardyce and Karen Dundas have been back in the East Church - and it looks as though they've been having fun!
Whilst this may look like random colourful patterning it is, in fact, a tribute to to wood, its knots and patterns. Today we are much more used to wood graining looking realistically like a section through wood, but back in the mid-1700s the effect that they were after was much more of a stylised appreciation of wood. More celebration than accurate reproduction.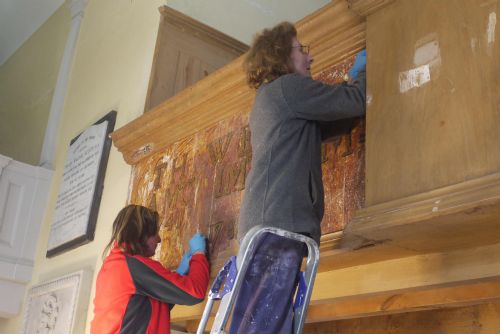 And at the time that the north aisle and loft were built, in 1740, the church would have been a colourful place. Removal of small layers of later varnish in the front table seats of the north loft show that all three compartments were decorated in this same yellow ochre and red combination - as someone commented, creating an effect not dissimilar to a traditional traveller's horse-drawn caravan.
The west loft front was one pew short of the current frontage, and if you look under the front pew seats you can see patches of the same scrolling under the later green paint.
As far as we know the laird's loft wasn't built at this stage.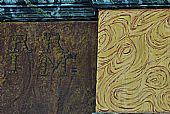 Taking a look at the paint layers during the conservation work, suggested that the interior of the church was painted pink at this time, and we know that the ceiling was lower and the windows smaller.
It's fascinating to try and imagine how the inside of the church would have looked, full of colour, and packed with people.
Fiona and Karen's re-painting of the loft front gives us a helping hand in imagining this. It was quite a daunting task for them at first, knowing that this would be a very prominent feature of the church - and so they had better get it right!
The panel with initials, has the original scrolling still intact, and so this was used to provide a template for their work, and then worked with a free hand to keep the vibrancy and flow of the original design. Looking at the photographs I think that you'll agree that they've done a pretty good job!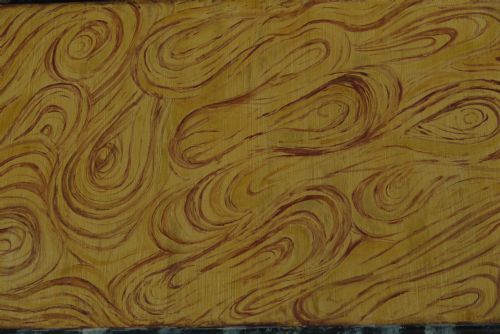 Latest News Stories
We joined with churches across Europe on Sunday 11th November to commemorate 100 years since the close of World War One. It was very moving t...
Learn more »
Would you like to help us keep the church open to visitors? Opening and closing times are flexible to suit. Each volunteer does a week at a t...
Learn more »
Support the work of the Scottish Redundant Churches Trust in looking after historic buildings like the East Church.
more »