A new painting for the East Church
27 January 2012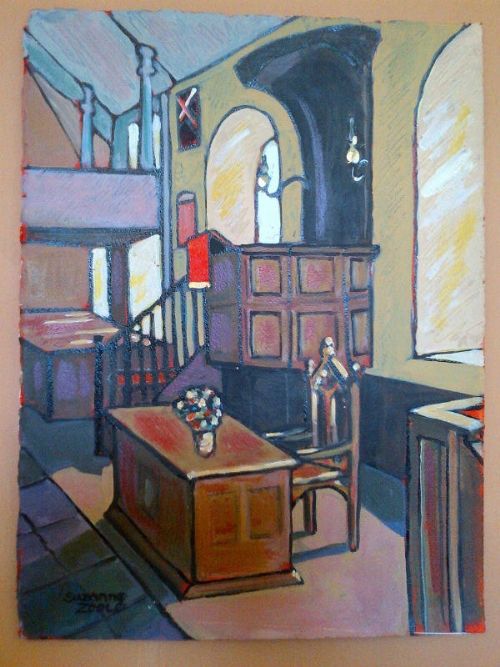 This beautiful painting of the East Church has been gifted to the Scottish Redundant Churches Trust by artist Suzanne Zoole.
Suzanne was inspired by the paintings of the interior the church by Cromarty artist,
Gillian Jones
, (postcards of which are for sale in the church) and felt moved to create her own work for the Trust to use in a similar way. The resulting painting captures the calm and elegant interior of the church.
Suzanne hails from
Spartanburg
, South Carolina, in the foothills of the Blue Ridge Mountains, where she lives with her husband. She describes the area as "a very beautiful part of our country." Out in the woods Suzanne has a cabin, which is "a retreat and a studio for me."
Suzanne came to Cromarty as a result of travelling with friends, who wanted to visit their neighbour's daughter, who now lives in Cromarty. By amazing co-incidence, when Suzanne told a friend of hers about going to Scotland, she asked where - and as Suzanne, says "I said, "Way up north." She said, "Where?" I said, "A little village called Cromarty." She lit up and said, "That is where my mother's family is from!" She then told me of her trip there and her mother's placing a placard inside the church and that the family name was Hogg."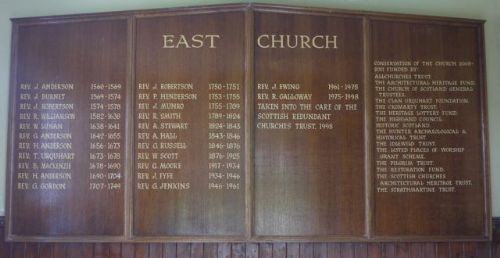 Remarkably, her mother, Anne Hogg Cross, had donated the Ministers' board to the church, and people in Cromarty had recently wondered who the Hogg Cross's were. So Suzanne's visit has not only resulted in a wonderful painting of the church, but a fascinating connection renewed.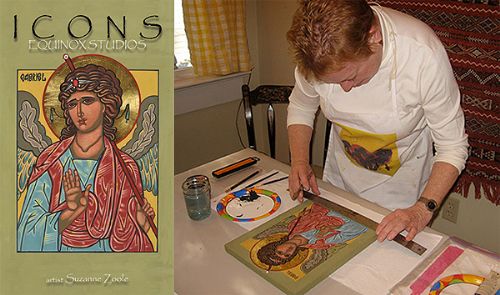 Suzanne has a website
www.suzannezoole.com
where you can see more of her fine art paintings and also some glorious icons. Suzanne was first inspired by iconography during a trip to Russia. Describing their impact Suzanne says, "I encountered icons in the many churches, monasteries, and museums we visited. They drew me with their austere faces and archaic features. They fascinated me and I felt they possessed a power I could not explain."
The impression they made was so great that Suzanne travelled 1000 miles to Pennsylvania to take a week long course in painting icons and has continued to study and develop her technique since. Suzanne paints icons for herself and for commissions - her paintings are Episcopalian, reflecting her own faith denomination.
Latest News Stories
We joined with churches across Europe on Sunday 11th November to commemorate 100 years since the close of World War One. It was very moving t...
Learn more »
Would you like to help us keep the church open to visitors? Opening and closing times are flexible to suit. Each volunteer does a week at a t...
Learn more »
Support the work of the Scottish Redundant Churches Trust in looking after historic buildings like the East Church.
more »