East Church to go to the Albert Hall
14 January 2014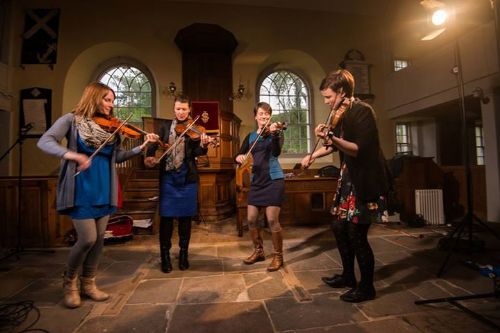 The East Church has been getting around a bit in recent months - from the Edinburgh Fringe to the Albert Hall in London and it is all thanks to the musicians of Rant, who recorded their first album in the church last May.
**** "an impressive showcase" – The Scotsman
**** "exceptional music" – Scotland on Sunday
The musicians are four fiddlers - Bethany Reid, Jenna Reid, Sarah-Jane Summers and Lauren MacColl - and their album, also called Rant, has been getting a glowing response. The acolades include winning a Herald Angels award, given to the best performers at the Edinburgh Festival.
Now they've been nominated for the 'Best Traditional Music Track of the Year' at the BBC Radio Two Folk Awards. Not surprisingly they're pretty chuffed at all the enthusiasm for their album and looking forward to their London visit.
Everyone involved with the East Church is delighted for them - and wish them the very best of luck. We'd also highly recommend buying their cd - which you can from their website in either hard copy or digital form.
You can keep up-to-date with all the the band is up to on their facebook page - which includes their Celtic Connections gig, with Julie Fowlis and Parveen Sabrina Khan in the Old Fruitmarket, Glasgow at 8pm on 22nd January.
Latest News Stories
We'll be celebrating Hogmanay in Cromarty with the bells of the East Church and Courthouse ringing out for two minutes - or 120 rings. If you're aro...
Learn more »
'... the kirke within this kingdome is now purged of all superstitious observatione of dayes... thairfor the saidis estatis have dischairged and...
Learn more »
Support the work of the Scottish Redundant Churches Trust in looking after historic buildings like the East Church.
more »