World War One community commemoration
30 November 2013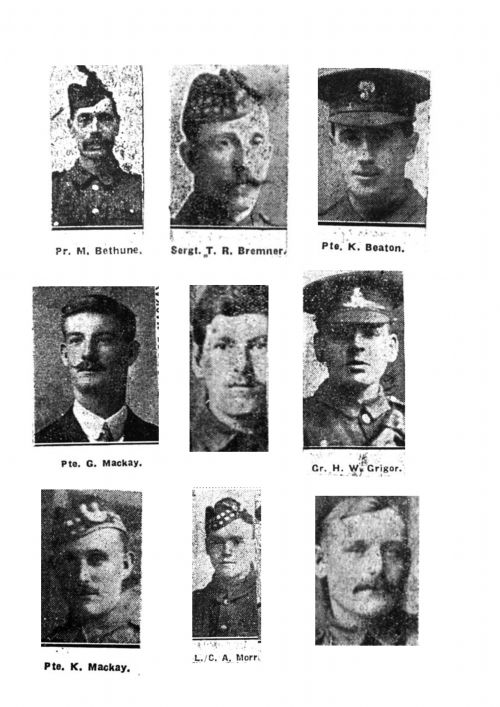 They were a wall around us by day and by night
(Resolis War Memorial)
Twenty men from Resolis and Forty-five Cromarty men were killed in the First World War.
The World War One commemoration project covering the neighbouring parishes of Cromarty and Resolis honours the men and the women who served in the war. In some instances whole families of brothers and sisters left the area. Some of those people are shown in the photograph, their images take from Ross-shire Journal reports and now available online thanks to the work of Ross and Cromarty heritage. You can find more information on their
war records page.
Within the East Church, the communion table was given to the church in 1921 to commemorate the young men of the congregation who were killed:
Norman Bain
John Campbell
James Farquhar
George Hogg
James Hogg
Robert Hogg
Andrew Ross
James Shepherd
James Duncan Smith
William Skinner
Four other men are buried in the churchyard:
James Fergusson Bisset
James Hogg
Robert Finlayson
Robert Hogg
The two communities project would like to find out more about these men and women from Cromarty and Resolis. We're also looking to find out more many other aspects of life at this time including:
about the training camps in Cromarty
the two military hospitals
how farms provided the troops with food at a time when many of the farm workers were being called up
the representations to the exemption boards
what life was like for people in Cromarty and Resolis in the years around the First World War
the trades and businesses in both parishes in the period around the First World War. In Cromarty's case these included an ice cream shop, recorded in the 1915 valuation rolls.
We'd love to hear from anyone who would like to join in our research and/or has any family stories and accounts of the First World War, or any artefacts or prints relating to the period.
If you'd like to find out any more about the project, including our plans of the new year, just get in touch with Caroline or David via the East Church email.
THEIR NAMES LIVETH FOR EVERMORE
(Cromarty War Memorial)
Latest News Stories
We joined with churches across Europe on Sunday 11th November to commemorate 100 years since the close of World War One. It was very moving t...
Learn more »
Would you like to help us keep the church open to visitors? Opening and closing times are flexible to suit. Each volunteer does a week at a t...
Learn more »
Support the work of the Scottish Redundant Churches Trust in looking after historic buildings like the East Church.
more »