Historic 'At Risk' Church Saved for the Nation
24 June 2013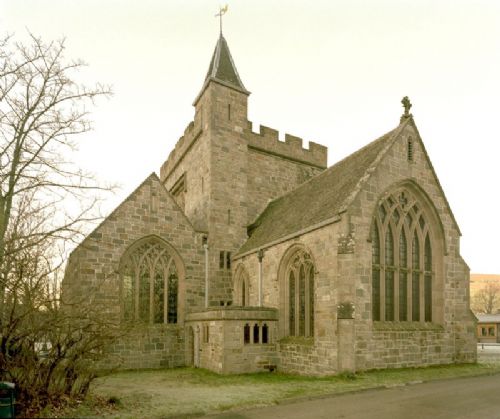 A dilapidated historic church, considered to be one of the architectural gems of the 20th century has been saved for the nation through its sale to a charity for £1, thanks to the initiative of local people.
The transfer of ownership will trigger the development of a major £1.3 million project to restore the building and transform it into a cultural hub and a unique venue for traditional music.
The Category A listed St Margaret's Episcopal Church in Braemar has been on the Buildings at Risk Register since 2003 and was last used by the congregation in 1997. The church is derelict and in poor condition but in its late Victorian heyday was celebrated for its architecture and filled every Sunday with hundreds of worshippers who flocked to fashionable Royal Deeside during the summer months.

With the future of the building looking increasingly perilous the Scottish Redundant Churches Trust (SRCT) has stepped in and, working in partnership with Braemar residents, accepted the offer of the Rt. Revd. Dr Bob Gillies, Bishop of Aberdeen and Orkney, to transfer ownership of St Margaret's for £1. Dr Gillies said that he was "delighted that this has come about" and praised local people for their support.
The SRCT's agreement to take ownership of St Margaret's comes after the completion of a report into the feasibility of transforming the church into an arts hub and performance venue, and following a series of highly successful musical events held in the church. The most recent of these, a concert held in January and attended by over 200 people including HRH The Duke of Rothesay, featured locals and school children performing alongside musicians of international repute. Paul Anderson, one of the most respected exponents of the Scots Fiddle tradition and who played at the concert , has been credited with revealing the hidden potential of the building's extraordinary acoustics during an earlier visit to St Margaret's.

Music is expected to play a large part in the future of St Margaret's. In addition to the building becoming home to a new Braemar fiddle school, it will be a unique venue for a wide variety of events and performances which will showcase the very best of traditional Scottish music. The report commissioned by the SRCT also shows how St Margaret's will act as a hub for artistic and cultural activities in the village and the wider Cairngorms National Park.
SRCT's Executive Director, Victoria Collison-Owen said:
"it is brilliant that we are saving a beautiful building and an important part of our heritage, but this project will also deliver so much more for Braemar and for visitors to the Cairngorms National Park. The activities we are planning will naturally flow out from St Margaret's, encouraging many more creative developments around the village and helping to make Braemar a really vibrant and exciting place to be. The combination of high quality cultural events taking place in a stunning natural environment makes this an incredibly exciting project."

This ambition sits well with Braemar's newly-published Community Action Plan which acknowledges that the village's economy is heavily dependent on tourism, and that there is a real need to find ways to persuade more visitors to stop and stay in the village. The St Margaret's project will help achieve this, and expert advice and support is being given by the Prince's Regeneration Trust (PRT). PRT's Chief Executive, Ros Kerslake, said:
"We are delighted that such excellent progress is being made and we look forward to working with the SRCT and the community to regenerate St Margaret's. Projects like this can make a real difference to places and communities by bringing social and economic benefits, as well as benefits to our heritage".
Grant Moir, Chief Executive of the Cairngorms National Park Authority agrees: "The Cairngorms National Park Authority is delighted to support this important project. We see the restoration of historic properties such as St Margaret's Church, which stand as focal points in the heart of the community, as great places to invest in facilities which are vital to the success of those communities".

Although support for the project is coming from a range of national and regional organisations including SRCT, PRT, Historic Scotland, Scottish Enterprise, Aberdeenshire Council and the Cairngorms National Park Authority, the vision behind the rescue of St Margaret's has come principally from local people. Leading the way is a group of four local residents: Brian Wood, Pete Mulvey, Dave Chandler, and the Rev Ken Mackenzie, minister of Crathie and Braemar. On hearing the news of the sale to the SRCT going ahead, Brian Wood said:
"It is excellent news that the SRCT has agreed to accept ownership of St Margaret's. This is a significant moment for the building and, we hope, for the wider community. The SRCT only takes the most important churches in Scotland into its care so it is a real boost to us all that they have agreed to adopt St Margaret's. We are working closely with the SRCT to breathe new life into the building and to transform it into a vibrant asset for the Braemar community."
Already, a programme of events at St Margaret's is being planned, including a performance by the Dutch Youth Orchestra in August as part of the Aberdeen International Youth Festival. Although the condition of the building is poor the SRCT believes that allowing people to use and enjoy it is the key to success. Mrs Collison-Owen said: "admittedly it is not the most luxurious venue at present but whatever it lacks in terms of comfort it more than makes up for in atmosphere and character. St Margaret's is a stunning and inspiring space that really comes alive through music and performance."


She added:
"This is a big project and it will take us some time to develop it and to raise the £1.3 million required to restore St Margaret's. In the meantime, we need to find around £70,000 to ensure that the building is kept wind and watertight and can continue to host events. We would appeal to everyone who cares passionately about Scotland's heritage and culture to help the SRCT and the Braemar community to keep St Margaret's open and in use while we move ahead."
Find out more about St Margarets and other SRCT churches on
www.srct.org.uk
Latest News Stories
We joined with churches across Europe on Sunday 11th November to commemorate 100 years since the close of World War One. It was very moving t...
Learn more »
Would you like to help us keep the church open to visitors? Opening and closing times are flexible to suit. Each volunteer does a week at a t...
Learn more »
Support the work of the Scottish Redundant Churches Trust in looking after historic buildings like the East Church.
more »