Church Celebrates Lottery Half-Billion Day and Doors Open
16 September 2008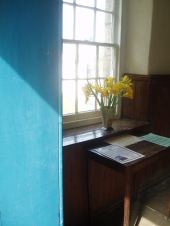 Cromarty will have a busy day on Saturday 20 September when the users of five very different historic buildings lay on a special welcome for the Highland-wide 'Doors Open Day'.
There will be people on hand to tell you all about the East Church, Cromarty Courthouse, Hugh Miller Cottage and Museum and the Primary School; with the added bonus of refreshments on offer at the school.
The Scottish Redundant Churches Trust, who care for the East Church, are delighted that conservation work will also begin on the church during September; as trust director Victoria Collison-Owen commented:
"Everyone has worked so hard to make this conservation project work and we are grateful for all the support we have received. We're extremely fortunate to have Laing Traditional Masonry Ltd as the main contractors. They have a superb reputation, not only for the quality of their work, but also for their commitment to training apprentices – the next generation of skilled stonemasons and craftworkers."

Managing Director of the company, Steven Laing is looking forward to their work in Cromarty himself:
"I would like to express how excited my company is about getting the opportunity to work on the East Church, Cromarty. This prestigious historic building, which is set within a beautiful conservation town, deserves sensitive repair combined with quality craftsmanship.
We pledge to promote these ancient craft skills by recruiting a Building Conservation Trainee from the local area on a minimum 2 year contract who will work on the East Church and other historic buildings around Scotland. We are committed to delivering the project on schedule, and with as minimum a disruption to the town as possible, and we all look forward to working closely with the community."

Saturday 20 September will be the last chance to take a look around the church before work gets underway. There'll be a double celebration at the church, as it is also taking part in the Heritage Lottery Fund 's 'Half Billion' programme; which marks the giving out of half-a-billion pounds to Scotland's heritage; over £640,000 of Heritage Lottery budget has been allocated to the East Church .
The church will be open all day, but community and education officer Caroline Vawdrey, and Laing's site manager Andrew Newcombe, will be on hand from 11.00 to 3.00 to answer questions about the project.
The Cromarty Courthouse is opening from 10.00 to 5.00 as normal, and Doors Open Day gives a great opportunity for a free visit to enjoy all that the Courthouse has to offer including its audio tour of Cromarty. This month's special exhibition is 'Treasured Places', put together by the Royal Commission on the Ancient and Historical Monuments. This offers a fascinating insight into the way in which the built heritage is important to communities around Scotland and how they interpreted them in art forms from animation to poetry in workshops earlier this year.
Next door the Hugh Miller Cottage and Museum will also be offering free visits and ,if you pre-book, a guided tour. You'll also be able to admire their new 'Garden of Wonders' the centerpiece of which is a unique ammonite sculpture by Helen Dennerley.
You can round off your peek behind Cromarty's doors with a visit to the nineteenth century primary school, where parents and children will tell you about the building's history and what children get up to there today. You'll also be able to enjoy a refreshing cup of tea and home baking.
As Anne Short, Chair of the Community Council and Courthouse trustee said:
"We pride ourselves on the welcome that we give to visitors in Cromarty, and are sure that 'Doors Open Day' will make a great day out for all the family. We look forward to showing off our little town."

Latest News Stories
We joined with churches across Europe on Sunday 11th November to commemorate 100 years since the close of World War One. It was very moving t...
Learn more »
Would you like to help us keep the church open to visitors? Opening and closing times are flexible to suit. Each volunteer does a week at a t...
Learn more »
Support the work of the Scottish Redundant Churches Trust in looking after historic buildings like the East Church.
more »