Sir Thomas Urquhart Conference
03 February 2011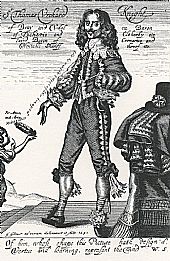 Sir Thomas Urquhart, born 400 years ago in 1611 is one of the liveliest characters in Cromarty history.
To celebrate his life as Royalist soldier in the Civil war, inventor of a universal language and translator of Rabelais (amongst other feats) the Cromarty Arts Trust is holding a two-day conference in Cromarty this spring.
On Friday 15 April and Saturday 16 April people will be gathering from far and wide to learn more about his extraordinary life, the world in which he lived and his influence today.
Speakers at the event will include David Alston, well known to followers of the East Church conservation story, novelist Andrew Drummond, poet Richie McCafferty and professors from across Britain and the Atlantic.
The East Church will have its own small part to play in the occasion, as Clan Urquhart will be hosting a reception in the church on the Friday evening.
The East Church has its own tales to tell about Sir Thomas, as one of our first records of the building is as a result of him writing about an argument with the minister. The occasion was the putting up of a desk (table seat) in the church, without the minister, Gilbert Anderson, first seeking permission. As principal landowner in the parish, Sir Thomas would have expected such a request as his due.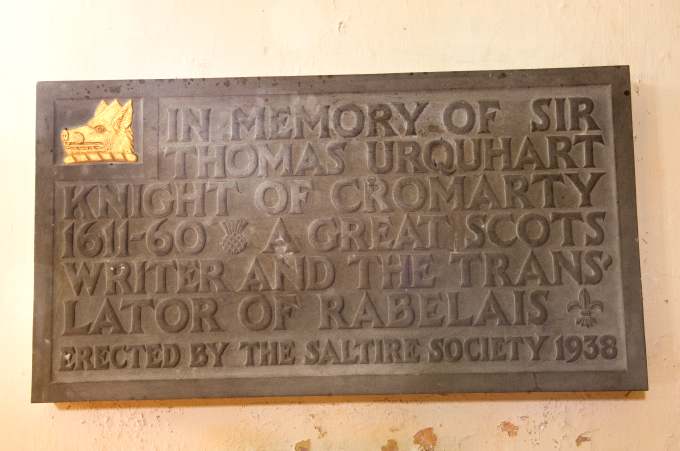 Sir Thomas writes that following this dispute Gilbert Anderson
'did so rail against him and his family in the pulpit at several times . . . more like a scolding tripe-seller's wife than good minister . . . squirting the poison of detraction and abominable falsehood, unfit for the chaire of verity, in the eares of his tenandry, who were the only auditors'.
Much more recently, in 1938, the Saltire Society put up a commemorative plaque to Sir Thomas showing that he was then, and continues to be an influence on modern writing.
You can find out more, and book a place at the conference on the Cromarty Arts Trust website.
Let us know what you think of our website by completing this very short survey
Latest News Stories
Lauren MacColl's comment on the 9th Fiddle Festival she's organised in Cromarty: All over for the 9th year! What a brilliant weekend in Cromarty! A...
Learn more »
More gems from the art and flower show - open from 11.00 to 16.00 until Sunday 23rd June. It's not just the adults who have been busy, the children ...
Learn more »
Support the work of the Scottish Redundant Churches Trust in looking after historic buildings like the East Church.
more »