Restoration to go ahead
01 May 2008
Plans for the £1m conservation of Cromarty's historic East Church are in their final stages and work is set to begin this summer. The church came to fame across Britain two years ago when it reached the finals of the BBC's Restoration Village.
Major contributions have come from The Heritage Lottery (£641k) and Historic Scotland (£347k). Other funders include the Scottish Churches Architectural Heritage Trust and the Cromarty Trust, and The Highland Council will be asked on Thursday to provide a grant of £50,000 to complete the financial jigsaw.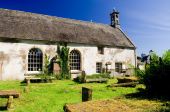 The Scottish Redundant Churches Trust, who now own the building, have appointed David Alston and Caroline Vawdrey as part-time community and education officers to organise a range of events, activities, exhibitions and volunteering opportunities over the 3-year restoration period. They will provide information on the progress of work at the church and keep both the local community and the wider public up to date with developments.
SRCT Director Victoria Collison-Owen comments:
'The support of the people of Cromarty during our Restoration Village bid was fantastic and we are looking forward to working with the community again as the Church undergoes major conservation and repair work.'
Latest News Stories
We joined with churches across Europe on Sunday 11th November to commemorate 100 years since the close of World War One. It was very moving t...
Learn more »
Would you like to help us keep the church open to visitors? Opening and closing times are flexible to suit. Each volunteer does a week at a t...
Learn more »
Support the work of the Scottish Redundant Churches Trust in looking after historic buildings like the East Church.
more »