Cromarty Doors Open Day: An outstanding success
27 September 2010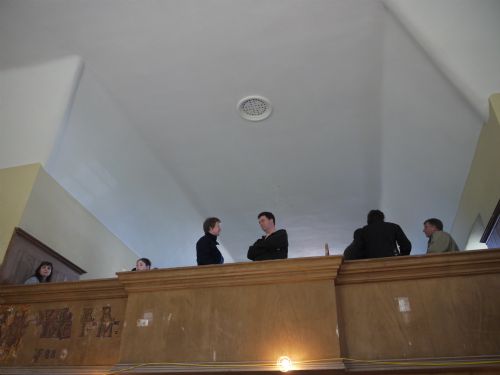 Cromarty was buzzing at the weekend, when many hundreds of people came to the town to visit the buildings open for the Highland Council supported 'Doors Open Day'.
More than 300 visitors came along to the East Church to see the the work that has been carried out during the £1.2 million conservation project, largely funded by the Heritage Lottery Fund and Historic Scotland. Similar numbers visited the Cromarty Courthouse Museum and Hugh Millers Museum and Cottage, with crowds gathering for the hourly tours of Cromarty House.
All the guides for the day were delighted by the response, and thrilled to see Cromarty so busy with visitors. Caroline Vawdrey, community outreach worker for the East Church project reflected their views when she commented,
"Doors Open Day is always a thoroughly enjoyable event, a fantastic chance to show off our properties and tell visitors a bit about their history. It is humbling to see just how much people care about the old buildings that are such an important part of Highland history and heritage."
It wasn't just the historic properties that benefitted from visitors enjoying a day out in Cromarty, the town's shops and restaurants enjoyed and increased trade too - with Sutor Creek serving more than a hundred pizzas by three in the afternoon.
We're carrying out a survey to see what users of this website think of it so far. There's only 4 tick boxes and a comments box, so it won't take long to give us your views. To complete the survey
click here
.

Latest News Stories
We'll be celebrating Hogmanay in Cromarty with the bells of the East Church and Courthouse ringing out for two minutes - or 120 rings. If you're aro...
Learn more »
'... the kirke within this kingdome is now purged of all superstitious observatione of dayes... thairfor the saidis estatis have dischairged and...
Learn more »
Support the work of the Scottish Redundant Churches Trust in looking after historic buildings like the East Church.
more »