What's happening under the scaffold?
07 June 2010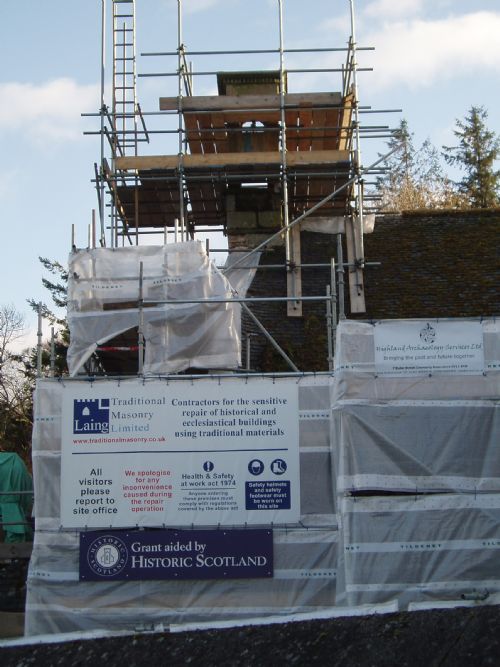 You can find out just what has been happening under the East Church scaffold by coming along to an open evening on Tuesday 15 June. We'll be meeting at the church gates at 7.00pm.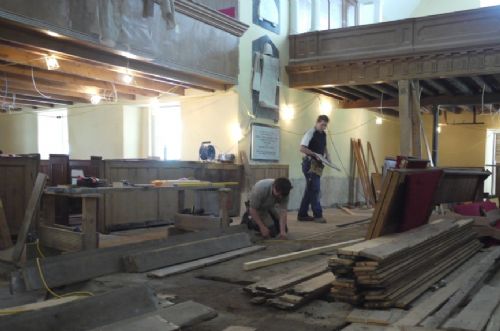 Joiners, Graham and Christoph have been working hard putting back in the flooring and pews - with the north aisle pews all now back in situ.
It sounds like a straight forward plan - take out all the wooden fittings - numbering everything as you go - draw up a plan of what went where, and then hey presto it all slots back into place again.
But work is never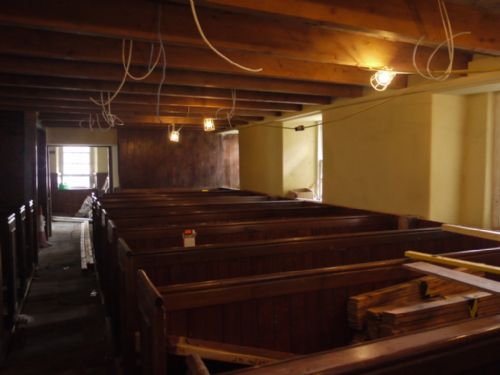 that simple is it? And quite apart from the fact that there are hundreds of pieces of wood, there are also levels to be tested and adjusted, and rotten timbers to be replaced. It is a challenge, but one which - on the whole - Graham and Christoph are enjoying.
If you're getting a taste for scaffolded buildings you might be interested to learn that the Cromarty Courthouse Museum has also now disappeared behind a metal framework.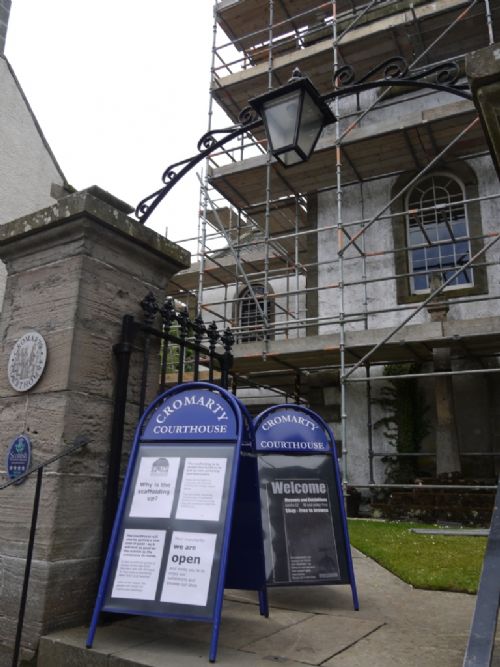 It's a familar story. The work is to remove damp and the causes of damp, although in this case the work involves adding to the building. New rones (gutters) are being added to the Courthouse tower, and all gutters are being angled to new downpipes at the back of the building.
Also in common with the East Church is the shared challenge of bulging boundary walls. In the case of the Courthouse a rather hair raising split had developed as a result of a tree growing on its far side. This section of the wall has now been taken down and will be rebuilt with a concrete re-inforcing wall up to ground level height at the rear.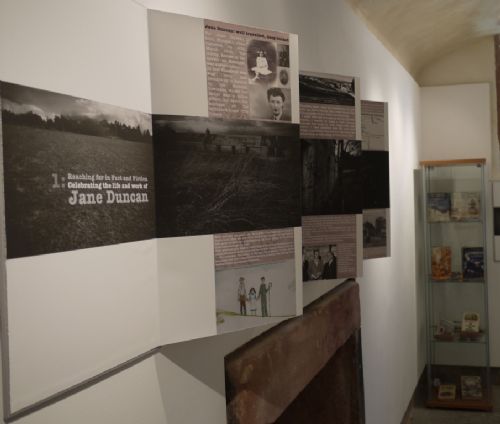 But don't let all this activitiy put you off visiting - the Courthouse is very much open and houses some fascinating exhibitions. For fans of the East Church project there are information boards, a file of press cuttings and notices and most excitingly a display cabinet of some of the archaeological finds. There's lots of information about Cromarty, the story of emigration from the fishertown, and new for 2010 an exhibition on Black Isle author Jane Duncan to celebrate the centenary of her birth.
Latest News Stories
We joined with churches across Europe on Sunday 11th November to commemorate 100 years since the close of World War One. It was very moving t...
Learn more »
Would you like to help us keep the church open to visitors? Opening and closing times are flexible to suit. Each volunteer does a week at a t...
Learn more »
Support the work of the Scottish Redundant Churches Trust in looking after historic buildings like the East Church.
more »