Under the floorboards
19 May 2010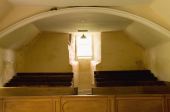 It's amazing what comes out from under the floorboards. Instructions to servants on serving God - and their masters, a Church of Scotland Highlands and Islands committee request for more funding for Highland Dioceses, fundraising for the Jewish Commission and a part of The Childrens weekly. Dating from 1837 to 1937 these documents have been found under loft floorboards during conservation work at the East Church, Cromarty and give an insight into the church congregation during that time.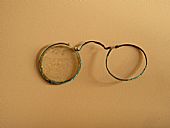 In an unusual fundraising bid in 1937 the Church of Scotland sent out a collection document on behalf of the Highlands and Islands, 'Three Glimpses', contrasts two parishes: the first in the Borders with a 'charming church' a 'comfortable manse and snugly placed garden' and a stipend 'well above the minimum', and the second 'glimpse', a Highland island Parish with the church a 'grim square block', the need to deliver separate services in both Gaelic and English and the stipend 'the bare minimum after a local struggle'. The third 'glimpse' shows the Committee on the Highlands and Islands using the 'meagre funds supplied to it from church collections ... attempting an almost impossible task' and making a plea for 'much more financial support from the whole church'. Presumably this collection message was circulated throughout Scotland in a bid to tug the heart strings of wealthier congregations.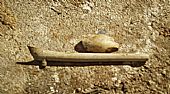 These finds join the amazing spread of personal items found under the floorboards during the archaeological work at the start of the East Church Project in 2008. The finds include spectacles and thimbles, shroud pins and Medieval glass, coins, clay pipes and slate pencils. These are now on display at the Cromarty Courthouse Museum, which also has information panels about the work at the church, whilst the building is closed.
For anyone who'd like the chance to get some first hand experience of how the East Church is looking at the moment there will be open evenings, with tours run by David Alston and Caroline Vawdrey, at 7.00pm on Wednesday 26th May and Tuesday 15th June.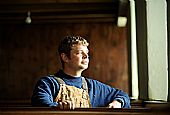 This press release was taken up by the Press and Journal, and we were very chuffed with their front page coverage - not to mention another good photo by Sandy McCook, who also took the photo on the right of Andy Newcombe at the start of the conservation work in September 2008.
Latest News Stories
We joined with churches across Europe on Sunday 11th November to commemorate 100 years since the close of World War One. It was very moving t...
Learn more »
Would you like to help us keep the church open to visitors? Opening and closing times are flexible to suit. Each volunteer does a week at a t...
Learn more »
Support the work of the Scottish Redundant Churches Trust in looking after historic buildings like the East Church.
more »