Wood and stone jigsaws
27 April 2010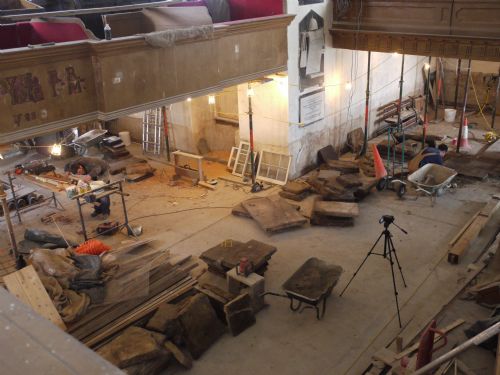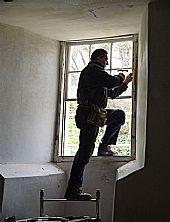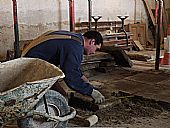 After all the pulling apart of the church, stripping it back to basics, it is now time to begin to put it back together again. And as you can see in the photo this means that the church is busy. Joiners Graham and Christoph, of Richard Mackenzie Ltd in Tain, are working on the windows and George and fellow members of the Laing's Traditional Masonry team are re-instating the flagstone aisles.
When the flagstones were removed they were all numbered and a drawing made of how they fit together, an attention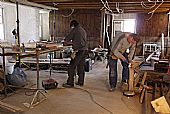 to detail which is vital now that the flags are being put back in.
Attention to detail is also the byword for Graham and Christoph's work on the windows. These are an important part of the historic fabric of the church, and so tearing them out for wholesale replacement is simply not an option.
What is happening is a careful cutting and pasting, taking out the rotten wood, and then joining in a replacement section that blends seamlessly with the old. The windows are made of pitch pine - slow growing mature pine that isn't available today, so Douglas fir from Easter Ross trees has been chosen as the nearest match.
The shapely and varied window astragals (the joining wood between panes) adds an extra creative challenge for the joiners. It is a skill that's little in demand today, but now re-mastered by Graham and Christoph.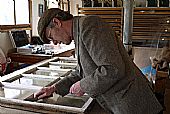 By the time the windows are back in place they'll have been thoroughly fussed over and cosseted, with wood conservation work from the joiners, glass repairs by Mark Steven of Northern Light Stained Glass and a coat of new lead white from the painters. Some of the windows will respond to this by opening for the first time in many years, but mostly the real skill of the craftsmen's work will be in the fact that you won't be able to see it
Latest News Stories
We joined with churches across Europe on Sunday 11th November to commemorate 100 years since the close of World War One. It was very moving t...
Learn more »
Would you like to help us keep the church open to visitors? Opening and closing times are flexible to suit. Each volunteer does a week at a t...
Learn more »
Support the work of the Scottish Redundant Churches Trust in looking after historic buildings like the East Church.
more »