Who was D Gair? Spring Newsletter out now
13 April 2010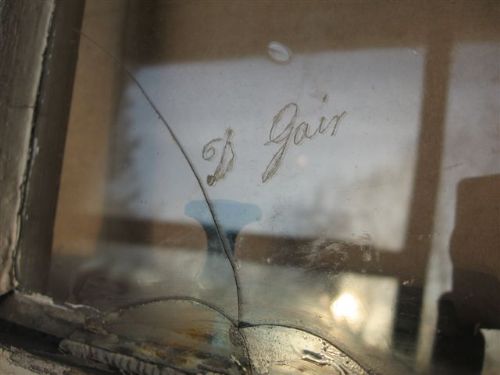 D Gair: he's a bit of a mystery. We know he engraved his signature in one of the North aisle window panes, but that is all. Most likely he was a workman - glazier, joiner? - at the church, but we've no records of him other than the one that he for left us.
Mark Stevens of Northern Light Stained Glass, based near Evanton is the man conserving the windows today. You can find out more about his work in the spring issue of the East Church newsletter.
Also in the newsletter we say a fond farewell to Andy Newcombe who has set up his own mortar and lime business from his home base in Moray. You can find out more about his work at www.masonryandlime.co.uk
Andrew Beattie has now taken over as site manager for Laing Traditional Masonry Ltd. He too is experienced in building conservation work and has recently completed a Society for the Protection of Ancient Buildings (SPAB) Fellowship. We're looking forward to working with him over the summer as the church progresses through its final work stages.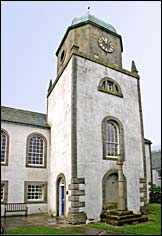 If you're planning a visit to Cromarty, take a look at the East Church notices (in the house window adjacent to the church to see what's been happening on site. Even if the church is closed you can pay a visit to the Cromarty Courthouse Museum to look at detailed information boards about the East Church project, and a display of the archaeological finds. The museum also has interesting exhibitions on Cromarty and on emigration from the Fishertown at the turn of the century. From Sunday 2 May they'll also be hosting an exhibition to mark the centenary of the birth of Black Isle author Jane Duncan, a best selling author through the 1960s. The Courthouse is open Sunday to Thursday 11.00 to 4.00.
Next door to the Courthouse Hugh Miller's cottage and museum, run by the National Trust for Scotland hostexhibitions relating to the life and work of Hugh Miller, 19th Century geologist, writer and one time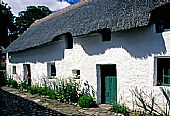 congregation member of the East Church.
If you'd like a paper version of the spring newsletter, just drop a note of your name and address to Caroline Vawdrey at info@eastchurchcromarty.co.uk . If you've missed some of the earlier issues you can download newsletters and notices on the worksite pages.
Latest News Stories
We'll be celebrating Hogmanay in Cromarty with the bells of the East Church and Courthouse ringing out for two minutes - or 120 rings. If you're aro...
Learn more »
'... the kirke within this kingdome is now purged of all superstitious observatione of dayes... thairfor the saidis estatis have dischairged and...
Learn more »
Support the work of the Scottish Redundant Churches Trust in looking after historic buildings like the East Church.
more »