The hatchment of George Ross
11 February 2010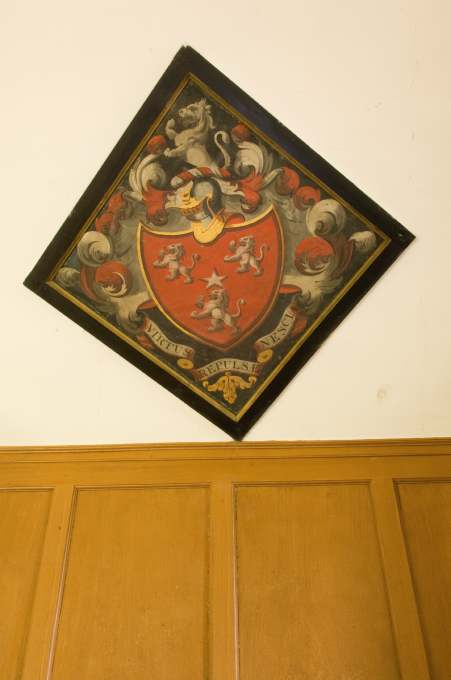 Hatchments, funeral banners developed in the early 17 century, are unusual in Scotland, being found in only around a dozen churches. Most of these are found in central Scotland and Perthshire, with the East Church and St Magnus' Cathedral in Kirkwall, Orkney being the only two northern examples.
The use of hatchments as funeral banners follows an earlier practice of displaying the helmet and shield of a dead knight in the church or family chapel, with the shield carried before the coffin during the funeral service.
Hatchments are usually square or lozenge shaped, measuring a metre or so across and painted onto hessian, calico or - as in the East Church - canvas, which is stretched and tacked on to a wooden frame.
The East Church hatchment was painted for 18th Cromarty Laird, George Ross, and would have been displayed outside his London family
home for up to 12 months before being moved north to hang in the church. The items illustrated on his hatchment, his armorial shield, motto, helmet and crest painted against a dark background are a pattern common to all hatchments. In some instances a skull may displayed, or one side of the hatchment painted white to illustrate the earlier death of husband or wife.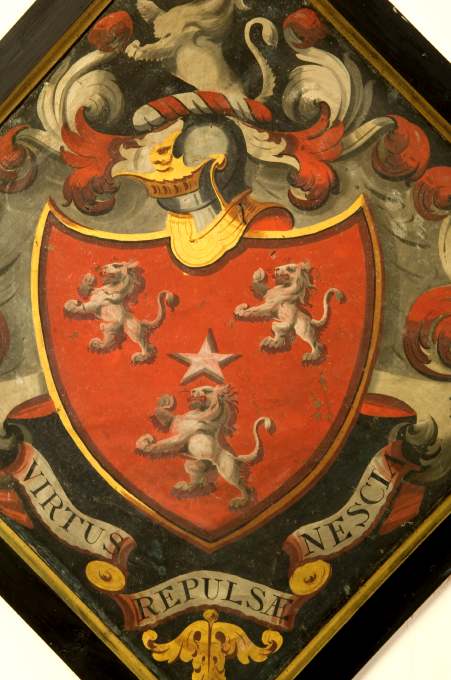 More than 200 years on the colour and detail of George Ross's hatchment remains remarkably vibrant, and in order for it to remain that way the hatchment has been removed to undergo conservation work - of which more details will be revealed as it gets underway. The plan is then to place the hatchment back in its original position above the laird's loft at the east end of the church.
Latest News Stories
We'll be celebrating Hogmanay in Cromarty with the bells of the East Church and Courthouse ringing out for two minutes - or 120 rings. If you're aro...
Learn more »
'... the kirke within this kingdome is now purged of all superstitious observatione of dayes... thairfor the saidis estatis have dischairged and...
Learn more »
Support the work of the Scottish Redundant Churches Trust in looking after historic buildings like the East Church.
more »