Absolutely SPABulous!
07 September 2009
The visit of SPAB, the Society for the Protection of Ancient Buildings, to the East Church last week caused some interesting debates amongst experts in the field of building conservation.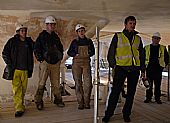 The East Church project team was on hand to show them the work that has been done at the church, and to discuss the techniques used.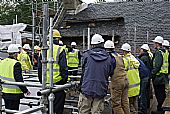 The group gathered at roof height to debate the relative merits of differents methods of slate fixing - to single or double hole, to bed on mortar or not - and to consider whether a mortar or lead edging at the skews was better.
This could all begin to sound a bit esoteric, but such debate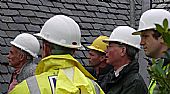 on detail is the way in which thin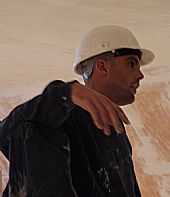 king on building conservation can evolve, and the prime contestants, all experts in their own right, are people who give a great deal of thought to the subject - and all more than capable of holding their own!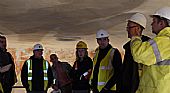 Inside, project worker Andrew Newcombe, and highly skilled plasterer Andrew Doyle described the painstaking work to repair the old plasterwork. All were impressed by the quality of workmanship.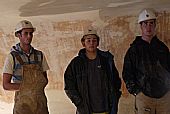 SPAB offer both fellowships and scholarships to building professionals and traditional building craft workers, and also have a range of courses and information available to homeowners. Their website is well worth a visit to find out more.
Latest News Stories
We joined with churches across Europe on Sunday 11th November to commemorate 100 years since the close of World War One. It was very moving t...
Learn more »
Would you like to help us keep the church open to visitors? Opening and closing times are flexible to suit. Each volunteer does a week at a t...
Learn more »
Support the work of the Scottish Redundant Churches Trust in looking after historic buildings like the East Church.
more »