A bunch of limeys
05 July 2009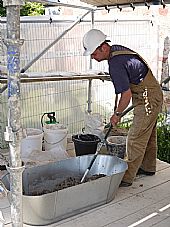 The conservation and repair of the East Church in Cromarty is providing a valuable training ground for people who want to learn traditional building techniques.
Steven Laing, the director of Laing Traditional Masonry (LTM) Ltd, the building contractor at the church, is known for his enthusiasm and commitment for taking on and training apprentices. He has 6 trainees working in the team at the East Church, and LTM have recently taken on an apprentice from Cromarty to work with the company.
Steven is keen to allow others to gain from the company's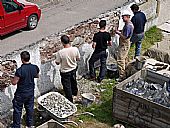 experience and so LTM have been sharing their knowledge by holding introductory courses on the use of lime mortars at the East Church recently. Thanks to Heritage Lottery Funding, the Scottish Redundant Churches Trust, who are responsible for the repair and conservation work at the East Church have been able to offer the courses to building contractors and professionals at a subsidised rate.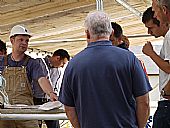 The opportunity for training was greeted with enthusiasm, with both days fully booked, and the participants enjoying the chance to not only learn some of the technical background to using lime mortars, but to also try their hand at using the mortar for pointing and harling on the church boundary wall.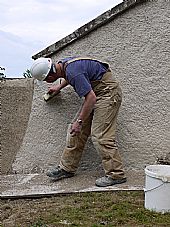 The courses were led by Craig Frew and Andrew Newcombe. Craig is LTM's in-house Technical Consultant with many years experience in the field of lime mortars for building repair and conservation. Andrew is LTM's Project Leader for the East Church, and has also worked on a wide range of buildings, including St Magnus Cathedral in Orkney and King's College Aberdeen.
Craig commented, "It is important to the company to be able to pass on the knowledge of lime working that we've gained over the last decade, and to de-mystify the process of working with lime. A lot of people have the impression that it is a difficult material to handle, and that it can be unreliable. In fact neither is the case, it's just a matter of making sure that you follow the right process and then, with good maintenance, lime mortars should be good for hundreds of years"
Latest News Stories
We joined with churches across Europe on Sunday 11th November to commemorate 100 years since the close of World War One. It was very moving t...
Learn more »
Would you like to help us keep the church open to visitors? Opening and closing times are flexible to suit. Each volunteer does a week at a t...
Learn more »
Support the work of the Scottish Redundant Churches Trust in looking after historic buildings like the East Church.
more »