Lime Mortar Courses attract strong interest
19 June 2009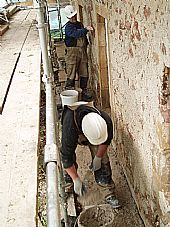 There has been great interest in the one day introductory Lime Mortar courses that are being run by Laing Traditional Masonry Ltd at the end of June. The contractors course is already sold out, and there is only 1 places left on the professionals day on the 1 July.
Laing's will be running other courses later in the year, but not at the subsidised price of these East Church courses -which we have been able to offer thanks to Heritage Lottery Funding.
There will be a free evening course for homowners held in the Cromarty Training Centre on the evening of 30 june. The session will start with an optional tour of the church at 6.30 pm, with lectures beginning at 7.00pm.
If you'd either like to register for the professionals day - or put your name down as interested in a course later in the year - get in touch with either Caroline or David via info@estchurchcromary.co.uk
Latest News Stories
We'll be celebrating Hogmanay in Cromarty with the bells of the East Church and Courthouse ringing out for two minutes - or 120 rings. If you're aro...
Learn more »
'... the kirke within this kingdome is now purged of all superstitious observatione of dayes... thairfor the saidis estatis have dischairged and...
Learn more »
Support the work of the Scottish Redundant Churches Trust in looking after historic buildings like the East Church.
more »