Lime Mortar Courses
02 June 2009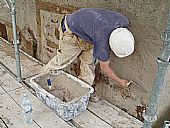 The Scottish Redundant Churches Trust is delighted to be offering one day courses on choosing and using lime mortars.
The training is being provided by building conservation specialists Laing Traditional Masonry Ltd, who are the contractors working on the East Church. The courses will be held on 30 June and 1 July, with one day tailored to meet the requirements of building contractors, and the second for building professionals.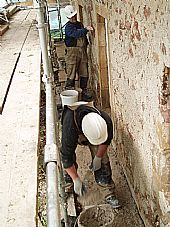 On the evening of June 30 there will be a free evening for homeowners, that will give people the chance to find out more about lime mortars and to put their questions to the experts. Download the poster for this event.
The day courses are being made available at the greatly reduced rate of £50, thanks to financial backing from the Heritage Lottery Fund.
If you're interested in attending, you can download a course leaflet and booking form.
If you have further questions, just get in touch with either Caroline Vawdrey or David Alston by emailing info@eastchurchcromarty.co.uk or phone them on 01381 600243.
Latest News Stories
We'll be celebrating Hogmanay in Cromarty with the bells of the East Church and Courthouse ringing out for two minutes - or 120 rings. If you're aro...
Learn more »
'... the kirke within this kingdome is now purged of all superstitious observatione of dayes... thairfor the saidis estatis have dischairged and...
Learn more »
Support the work of the Scottish Redundant Churches Trust in looking after historic buildings like the East Church.
more »