A church of gaudy colours?
23 March 2009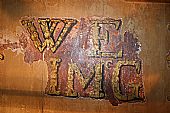 Well, so much for the theory that churches were plain, perhaps slightly gloomy places of worship. The growing evidence of colour in the East church gives many points to ponder.
Most recently revealed is red paintwork around the gold lettering on the front of the North Loft. And as if this wasn't exciting enough, exploratory delicate removing of the upper layers of varnish has revealed the beginnings of a curve around the lettering.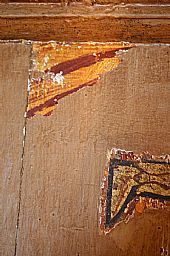 All this was discovered by a conservator from AOC archaeology when she was undertaking 3 days of initial work in order to advise on how to best conserve the loft front.
The two most spectacular pieces of coloured painting already known about in the church are the amorial panels of Sir Kenneth and Lady Mackenzie, and his painted pew panels - re-used in the North Loft
Other evidence of colouring in the church can be found in the green and golden lettering of the old west loft front (now hidden below a pew) and in fragments of pink paint revealed through scraping of top layers of wall paint.
The trick now will be to try to determine the ages of all these hints of colour - and then, of course, the really big challenge - what period to present the church in?
Latest News Stories
We joined with churches across Europe on Sunday 11th November to commemorate 100 years since the close of World War One. It was very moving t...
Learn more »
Would you like to help us keep the church open to visitors? Opening and closing times are flexible to suit. Each volunteer does a week at a t...
Learn more »
Support the work of the Scottish Redundant Churches Trust in looking after historic buildings like the East Church.
more »