East Church meets a wider public
05 March 2009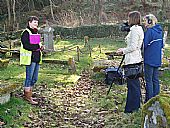 The East Church has been getting a good public airing over the last few weeks with appearances on BBC Alba, at the Cromarty History Society, on the Rural Gateway website and at a kirkyard conservation gathering.
The public noticeboard at the church has certainly been proving effective, as the sighting by a BBC worker of the notice about the kirkyard conservation workshop led to BBC Alba coming along to make a newspiece for the channel.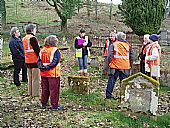 Helen Bradley of Archaeology Scotland led the kirkyard conservation workshop, giving useful information and encouraging lively discussion amongst the participants from Cromarty and Resolis . All of those that came along are keen to get involved in finding out more about the kirkyard and thinking about how best to manage it.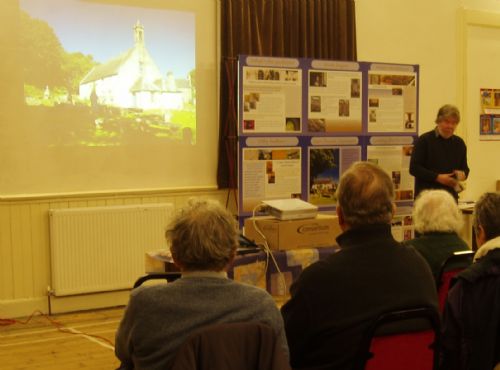 David and Caroline gave a talk to the Cromarty History Society and enjoyed the questions about progress and finds at the church. The interpretation panels got their first airing too - as always with these things you see some things that you'd like to tweek once they are on display - but on the whole they look pretty good!
The panels will be on show at the Cromarty Courthouse during the summer - so if you are in Cromarty make sure you pop in and take a look. The Courthouse is undergoing major exhibiton changes at the moment, and they are opening free this year -well worth a visit.
Latest News Stories
Would you like to help us keep the church open to visitors? Opening and closing times are flexible to suit. Each volunteer does a week at a t...
Learn more »
The church is looking quite stunning, filled with flowers for our annual art and flower show, which you can visit over the next three days between 11....
Learn more »
Support the work of the Scottish Redundant Churches Trust in looking after historic buildings like the East Church.
more »