07 February 2009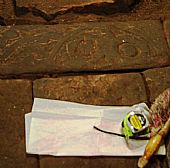 Highland Archaeology Services have finished off their work inside the church, including making a detailed drawing of the Medieval carved stone found as part of the pre-Reformation Catholic altar kerb. Because this is such an important part of the church's history the kerb will remain in place. The new flooring will have to cover over the kerb, but it's position will be marked by a wooden carving of the stone.
Arriving at a final decision about the best flooring to go under the wooden pew flooring has been a difficult decision for all those involved in the work at the church.
In order to protect the archaeology, and provide a stable base for the scaffolding that is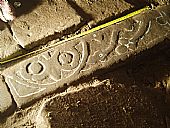 needed to reach to the ceiling heights, the archaeology is covered first with sand, then a geotextile membrane. On to this the soil taken out of the church during excavation is put in order to bring the floor up to the right level for the final layer. This is a shallow concrete screed worked onto a metal grill.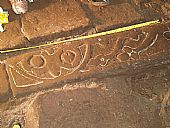 This may seem contrary to the principles of the church restoration, which is to remove the concrete harl and gypsum plasterwork in order to allow the church to breathe better, but other techniques would have damaged the valuable archaeology. The concrete will be easy to cut through if future excations take place, and will fall short of all the outer walls in order to allow damp to escape from the church.
Latest News Stories
We joined with churches across Europe on Sunday 11th November to commemorate 100 years since the close of World War One. It was very moving t...
Learn more »
Would you like to help us keep the church open to visitors? Opening and closing times are flexible to suit. Each volunteer does a week at a t...
Learn more »
Support the work of the Scottish Redundant Churches Trust in looking after historic buildings like the East Church.
more »