Moving to new heights
26 January 2009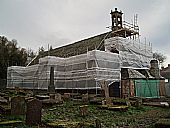 The scaffolding now completely surrounds the church and reaches to the tip of each gable. This allows Laing Traditional Masonry to reach the furthest corners of concrete harling and to have access to the roof ready for roofers to move in.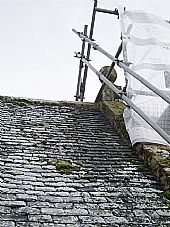 The last section of harling - on the north end has proven particularly challenging. This was redone during the 1980's - and unlike the earlier late '70's harling - has been driven deep into the mortar between stonework.
This cement is hard...! And removing it to a depth of around 9cms in each mortar joint hard too - 3 hours of constant hammering per metre squared hard. I envy Andrew and Andrew their fresh air - but not their arm ache!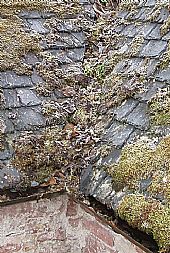 A close look at the church roof reveals why this needs to be tackled. Gutters and valleys are filled with debris, preventing them from draining properly, so that rainwater runs down the walls adding to the dampness in the church.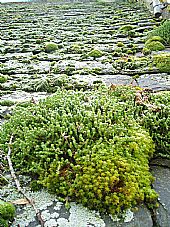 The moss and stonecrop clumps look beautiful but add to the build up in the gutters as they slide off the roof. Regular maintenance is the simplest solution.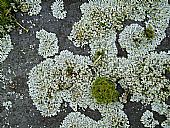 The lichens however are pure asset!
Roofers are expected on site shortly. They'll remove the first metre of roofing slates so that the ends of the timber beams can be inspected for rot and damage - and then carefully sheet it over until late spring when the major job of roof refurbishment can begin.
Check out the worksite pages to keep up-to-date with what is happening at the church
Latest News Stories
Would you like to help us keep the church open to visitors? Opening and closing times are flexible to suit. Each volunteer does a week at a t...
Learn more »
The church is looking quite stunning, filled with flowers for our annual art and flower show, which you can visit over the next three days between 11....
Learn more »
Support the work of the Scottish Redundant Churches Trust in looking after historic buildings like the East Church.
more »