Church Visits
05 January 2009
A Happy New Year to All!
Shortly before Christmas more than 40 visitors enjoyed tours of the East Church led by community and education workers David Alston and Caroline Vawdrey.
The day presented a rare opportunity for people to see the church with floors uplifted and the underlying archaeology exposed. Highland Archaeology Services had laid out displays of their many finds from beneath the floorboards - an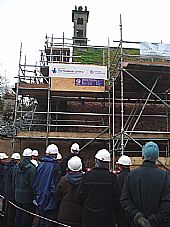 d caused many to ponder how on earth three pairs of prince nez had managed to slither through.
The church will have other tour days throughout the restoration work programme, and David and Caroline are happy to show other groups around. Please do get in touch with us if you would like to look around - but do bear in mind that the church is an active building site at the moment - and so we will only be able to show people around when it fits in with site works. We will need to be clear about the numbers in your group, and there will be no escaping the wearing of hard hats!
You can see a photo of the tour and a fine set of photos of work at the church so far taken by Calum Davidson on his flickr website
Latest News Stories
We'll be celebrating Hogmanay in Cromarty with the bells of the East Church and Courthouse ringing out for two minutes - or 120 rings. If you're aro...
Learn more »
'... the kirke within this kingdome is now purged of all superstitious observatione of dayes... thairfor the saidis estatis have dischairged and...
Learn more »
Support the work of the Scottish Redundant Churches Trust in looking after historic buildings like the East Church.
more »