Excitment as medieval altar kerb discovered
11 December 2008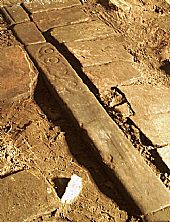 Highland Archaeology Services workers were delighted when their excavations revealed a carved stone thought to be of 14th or 15th century origin. Cait McCullagh, the company's medieval carved stone expert was called to site and immediately spotted the embossed cross and long sword that indicate that it was once a gravestone that hass been cut in half to form the altar kerb at the west end of the church.
Find out more about this and other discoveries on the worksite pages.
Latest News Stories
We'll be celebrating Hogmanay in Cromarty with the bells of the East Church and Courthouse ringing out for two minutes - or 120 rings. If you're aro...
Learn more »
'... the kirke within this kingdome is now purged of all superstitious observatione of dayes... thairfor the saidis estatis have dischairged and...
Learn more »
Support the work of the Scottish Redundant Churches Trust in looking after historic buildings like the East Church.
more »