New drains, new questions
22 October 2008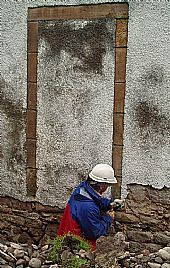 Drainage work at the East Church has revealed the building's foundations and raised some new questions about how the church developed.
Corner stones in the masonry indicate the church was originally shorter and, at some point, extended to the east.
Traces of earlier doorways and windows are also beginning to appear, and there are some flat dressed stones in the foundations that have got everyone pondering.
Find out more about the discoveries on our worksite page and take a look at the North Star newspiece.
Latest News Stories
If you're interested in the history of the church in Scotland, you'll want to take a look at the fascinating scholarly articles available in the r...
Learn more »
As Autumn turns to winter the church is lookng beautiful in both clear and stormy light. We know that many of you like to visit the church all year ro...
Learn more »
Support the work of the Scottish Redundant Churches Trust in looking after historic buildings like the East Church.
more »