New drains, new questions
22 October 2008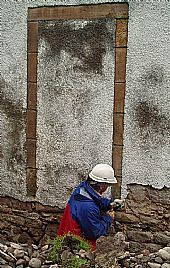 Drainage work at the East Church has revealed the building's foundations and raised some new questions about how the church developed.
Corner stones in the masonry indicate the church was originally shorter and, at some point, extended to the east.
Traces of earlier doorways and windows are also beginning to appear, and there are some flat dressed stones in the foundations that have got everyone pondering.
Find out more about the discoveries on our worksite page and take a look at the North Star newspiece.
Latest News Stories
We joined with churches across Europe on Sunday 11th November to commemorate 100 years since the close of World War One. It was very moving t...
Learn more »
Would you like to help us keep the church open to visitors? Opening and closing times are flexible to suit. Each volunteer does a week at a t...
Learn more »
Support the work of the Scottish Redundant Churches Trust in looking after historic buildings like the East Church.
more »