Heritage Lottery and Doors Open day success
30 September 2008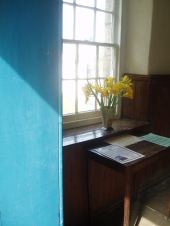 Site manager Andy Newcombe and Community and Education Officer Caroline Vawdrey were kept busy when the church laid on a special welcome to visitors for the Heritage Lottery half-billion celebrations and Doors Open Day on 20 September.
More than 100 visitors came to look around the church, to appreciate it for one last time before conservation work begian, and to ask questions about the work that will be done.
Cromarty was a busy place that day with a book festival being held in the Old Brewery and several other historic buildings also open to the public. So many visitors also enjoyed visits to the Cromarty Courthouse Museum, Hugh Millers House and Cottage, and the Primary School.
It was a combination that also interested the local press, and we recieved good promotion in the local press and on Moray Firth Radio, as well as a write up following the open day in the Press and Journal.
Latest News Stories
We'll be celebrating Hogmanay in Cromarty with the bells of the East Church and Courthouse ringing out for two minutes - or 120 rings. If you're aro...
Learn more »
'... the kirke within this kingdome is now purged of all superstitious observatione of dayes... thairfor the saidis estatis have dischairged and...
Learn more »
Support the work of the Scottish Redundant Churches Trust in looking after historic buildings like the East Church.
more »