In memory of William Hogg
01 October 2008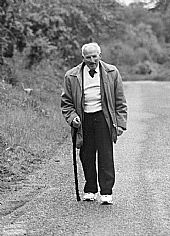 All those who knew Willie Hogg will be saddened to hear of his death at the age of eighty-five. Willie was a well kent figure around Cromarty as he walked around the town or along the shore with the aid of his stout and trusted walking stick; and with a pocket full of biscuits as a treat for any dog that he met.
Willie was a remarkable friend to the Scottish Redundant Churches Trust, and his daily opening and closing of the building for nigh on 15 years allowed many thousands of people to enjoy its calm beauty and take in its history.
At the recent Doors Open and Heritage Lottery Half-Billion Day at the East Church several visitors asked fondly for Willie and remembered long chats with him both about the church and his life around the Moray Firth. Willie had been born in Cromarty, but after the death of his mother he and several siblings were brought up in an orphanage in Inverness. He left school at 14 to work on a farm near Ardersier; once this was sold he worked in the social club at the Ardersier fabrication yard until it closed down.
Willie returned to his home town of Cromarty and soon became known by many people through his work in the British Legion social club. Willie was also known for his sponsored walks in aid of the East Church or Highland Hospice; walks which he approached with the same organisation and determination as his care of the East Church.
Willie's funeral was held in the church on the very day that work would have began. We are sad that he will not see the fruits of all his efforts, but feel glad that he would have known that the church is now on the way to recieving the skilled and loving care that it needs.
Latest News Stories
We'll be celebrating Hogmanay in Cromarty with the bells of the East Church and Courthouse ringing out for two minutes - or 120 rings. If you're aro...
Learn more »
'... the kirke within this kingdome is now purged of all superstitious observatione of dayes... thairfor the saidis estatis have dischairged and...
Learn more »
Support the work of the Scottish Redundant Churches Trust in looking after historic buildings like the East Church.
more »