Keen supporter of East Church conservation work celebrates 100th birthday
15 September 2008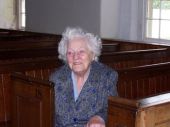 The 100th birthday of keen East Church Support, Mrs Newell, has been making local and national news headlines - attention which seems entirely appropriate for such an exceptional lady.
Community and Education Officer, and local Highland Councillor, David Alston, who played Master of Ceremonies for the afternoon, commented: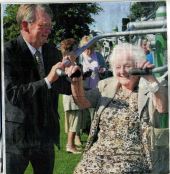 "
It was a privilege to be able to help out at her celebrations and community tribute this week, during which Mrs Newell also opened the new play equipment for the older citizens of Cromarty
."
The party featured on the front page of the
Press and Journal
, the Scottish News and even on BBC Newsround - which caused some excited surprise amongst the local children.
You can see more photos on the Cromarty Image Library
Latest News Stories
We'll be celebrating Hogmanay in Cromarty with the bells of the East Church and Courthouse ringing out for two minutes - or 120 rings. If you're aro...
Learn more »
'... the kirke within this kingdome is now purged of all superstitious observatione of dayes... thairfor the saidis estatis have dischairged and...
Learn more »
Support the work of the Scottish Redundant Churches Trust in looking after historic buildings like the East Church.
more »